To make it easier for home buyers to reserve a unit at Golden Horizon, HG-III is now accepting online reservations. Follow this easy 4 step guide from documents submission to payment:
1. PROJECT PRESENTATION
The buyer shall select his/her preferred unit, block and lot upon presenting of the following from his/her authorized agent/ broker/sales representatives: Project Details • Location • Sample Computation • Others.
2. RESERVATION DOCUMENTS
Accomplish the following documents and send thru email to corresponding agent/broker/sales representative with the subject [RESERVATION REQUIREMENTS FOR Unit_Block_Lot_Last name,First name, Middle name]
a. Initial Requirements (IREQ)* from the authorized agent/ broker/ sales representatives:
• Reservation Agreement (RA)
• Letter of Intent
• Sample Computation Sheet
• House Sketch
• House Floor Plan
• Project SDP
• Others
b. Proof of Income
(Latest one month payslip)
c. One (1) valid ID (back to back) with three (3) specimen signatures
List of Valid IDs:
• Present Company ID
• GSIS E-Card
• SSS Card
• PRC ID
• Driver's License
• Passport
• GOCC ID (AFP ID & Pag-IBIG ID)
• IBP ID
• Voters ID
• Postal ID
• OWWA ID
• Senior Citizen Card
*In the event that the buyer cannot print and fill out all the Initial Required Documents, the Soft Copy of the Reservation Agreement will do. However, in receiving the soft copy, the buyer should indicate: "I, (name of buyer),have read all the Initial Required Documents and agree to all the stipulations stated therein and that all the original signed documents will be sent to the Company within seven (7) days from date of this message."
Ex.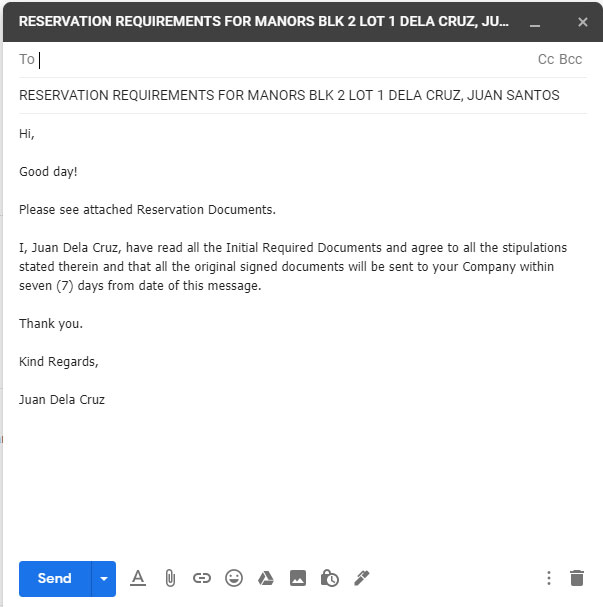 3. PAYMENT
Reservation fees can be settled through wire transfer, bank deposit, fund transfer or other similar gateways.  Details are provided by the agent/broker/authorized sales representatives.
Account Name: HG III CONSTRUCTION AND DEVELOPMENT CORPORATION
BDO Account Number: 011808000304
AUB Account Number: 520010000192
PNB Account Number: 151570005219
Proof of payment should be sent to corresponding agent/broker/sales representative thru email with the following details:
a. Buyer's Complete Name (Surname, First Name, Middle Name)
b. Unit/Block/Lot
c. Transaction Date
d. Transaction Time
e. Transaction Reference Number (For GCash transactions, always include a screenshot  of the GCash Confirmation Text Message or the  Transaction Receipt received via email)
f. Payment Type (Reservation)
*Payments received without the copy of the Reservation Agreement will NOT be tagged as an official reservation.
The complete Initial Requirements, along with the proof of payment are to be zipped in a folder with the file name (Last Name, First Name, Middle Name_Unit_Block_Lot) sent thru email to the respective agent/broker/sales representative.
4. OFFICIAL RECEIPT
Once payment has been validated, an authorized Sales Admin will inform the buyer of the availability of the Official Receipt. A scanned copy will likewise be sent as an advanced copy. The buyer will be advised once the original copy of the receipt can be picked up at the Makati Head Office.
Important Note: All the original signed Initial Requirements (IREQ) must be transmitted within seven (7) days from  reservation date addressed to the Sales Admin  (Makati Head Office or Trece Sales Office)
COMMUNITIES
Choose from our wide selection of affordable townhouses, single-attached, and singled-detached homes in Cavite.